The netizens took to the social media to express their anger towards the two senators who proposed the two license plate.
Last year, the Senate proposed a bill that requires all motorcycles to have a bigger license plate to be readable from 12 to 15 meters away.
The bill authored by Senators
Richard Gordon
and
Vicente Sotto III
is called Senate Bill 1397 or the Motorcycle Crime Prevention Act of 2017.
Photo Source: Philippine Star
Every region will have a specific color scheme and an alphanumeric system to identify the codes and numbers easily.
"Motorcycles have become crime machines. With their small plate numbers, criminals perpetrating crimes while on board motorcycles easily flee from the scene of the crime and usually there are no witnesses who can read or identify plate numbers so that the authorities can go after the criminals," said Richard Gordon.
Photo Source: Top Gear Philippines
Meanwhile, a motorcyclist named RG Russel Atanacio and some netizens took to the social media to express his anguish towards the senators who proposed the bill.
Atanacio said the government can't even release their license plate that they've been waiting for three years, and now they request to add another plate to be placed on their motorcycle.
Photo Source: @RG Russel Atanacio FB
On his post, he encouraged his fellow motorcyclist not to vote Senators Dick Gordon and Vicente Sotto on the election.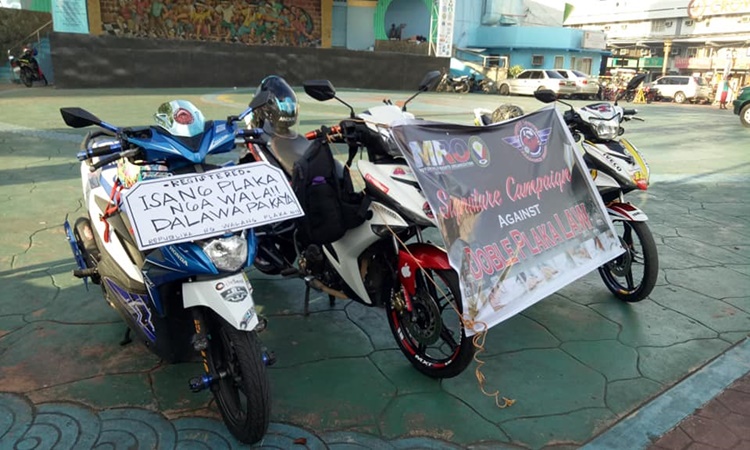 Photo Source: @RG Russel Atanacio FB
He stated that adding another plate number won't resolve the crime in the streets. He said adding more policeman in the streets and CCTV would be better.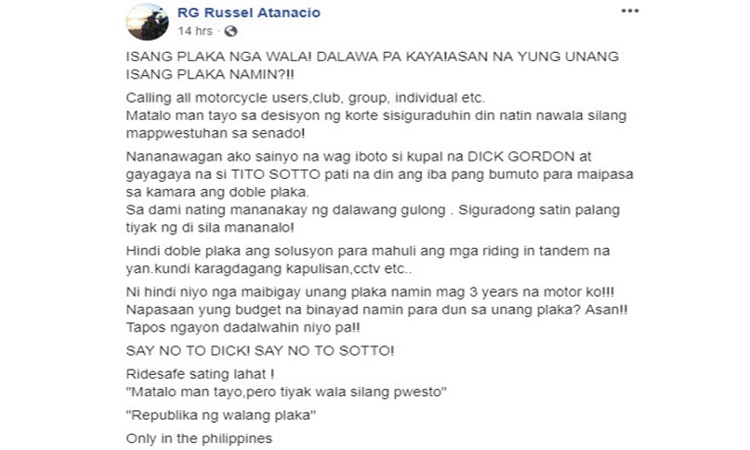 Photo Source: @RG Russel Atanacio FB
Several netizens showed their support on the Facebook post of Atanacio. Here are some of their comments on the
post
:
JB Bona: "No to duoble plate"
Jayrich Botor Batacan: "Hindi ko talaga iboboto yan.. wala na sila uupoan sa dami nating motorist"
Joey De Alday: "Tama yan sir my karapatan naman tayo bilang isang motorista at mamayan ng ating bansa..ipaglaban natin to!"
Source: Philnews/Facebook